Skye Tai
1.5 oz. Blended Scotch (Pig's Nose is great for this drink)
.75 oz. Amer Picon
.5 oz. Orgeat
.5 oz. Fresh lime juice
1/8 tsp. Absinthe
1 dash Fee's rhubarb bitters
Shake everything with ice and strain into double old-fashioned glass filled with crushed ice. Garnish with a lime slice and a cherry.
I've mentioned
Thursday Drink Night
before- It's the weekly online improvisational cocktail extravaganza where everyone is welcome to drop in, stick around as long as they like, and experiment with cocktail-making. I like to think of it as a jam session with booze instead of music. It's casual, friendly, and I guarantee it includes more references to
Ting
than any other chatroom you'll wander into. How's that for enticing?
A few weeks ago, the TDN theme was "Scotch", and I came up with the above recipe right around last call (sometimes the creative gears don't start turning until well into the night...TDN is funny like that). In any case, for reasons I'm still not entirely sure of, I was inspired to come up with a tropical-style drink. Scotch already has a reputation as being somewhat uncooperative in cocktails (with a few notable exceptions), so given my predilection to make difficult tasks even harder, I decided it would be a nifty challenge to see if I could get Scotch to behave itself in a tiki-ish cocktail.
I used the venerable Mai Tai as a loose template, retaining the lime juice and orgeat, but swapping in some new ingredients to take things in a different direction (toward the Hebrides, it seems). I'll be the first to admit it looks odd on paper (or screen), but it's gotten positive feedback from the intrepid souls who've tried it, so I'll consider it a keeper. Plus, it afforded me the opportunity to draw a tiki wearing a kilt and a Tam o ' Shanter, so really, the whole affair was out of my hands from the get-go.
Quick notes on some key ingredients:
1) I haven't empirically tested every blended Scotch out there, but I
have
found that
Pig's Nose
works wonderfully here. It's also great if you'd just prefer to dump it in a glass and enjoy it without fussing around with all the juice, syrup, ice and other miscellaneous distractions. As always, I encourage experimentation and investigation, and eagerly await your findings.
2) I haven't yet run across a commercially-made Amer Picon that I'm wild about, but the homemade stuff that my fellow boozeblogger SeanMike Whipkey of
The Scofflaw's Den
makes is fantastic, and it's what I use in this drink. His version is based on
Jamie Boudreau's Amer Picon recipe
, which just goes to show how incestuous the booze geek community really is.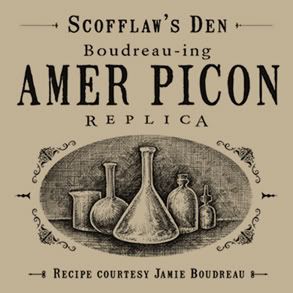 If you want some, contact SeanMike directly. I hear he'll do just about anything in exchange for a case of Miller Lite.
One more thing- Since this post revolves around a quasi-tiki drink, I'd be remiss if I didn't mention that for the second year in a row,
The Pegu Blog has transmogrified into The Tiki Blog for the entire month of February*
.
* February is the shortest month of the year, but since Doug posts approximately every 17 minutes, he makes up for it.