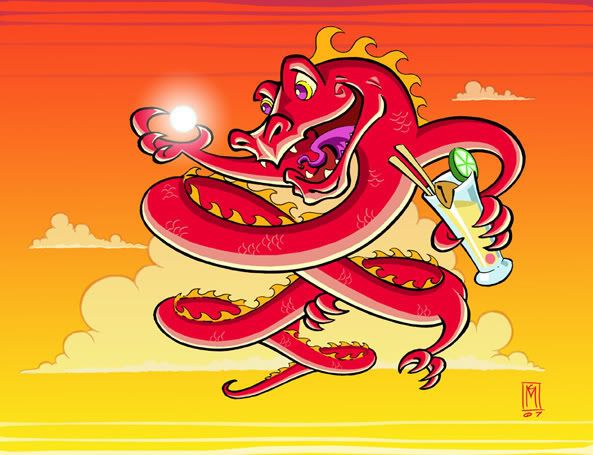 Pearl of Wisdom
1 oz. dry white sake
1 oz. cherry brandy
1 oz. gin
2 oz. sweet and sour mix
Approx. half a lime's worth of juice (just enough to add tartness & a little pulp)
Splash of club soda
Place a Maraschino cherry or pearl onion (the pearl) in the bottom of a tall pilsner glass and cover with a couple inches of crushed ice.
Shake all ingredients (except club soda) with ice and strain into the prepared glass. Add club soda.
Garnish with a lime wheel and a pair of chop sticks. Place a fortune cookie on the rim of the glass.
Once served, the idea is to retrieve the "pearl" with the chop sticks then learn your fortune from the cookie.
This one comes direct from tiki enthusiast and carver
extraordinaire
Finkdaddy
. In addition to creating incredible carvings & sculptures, Finkdaddy is a fan of adult beverages, and he recently submitted his original recipe, 'The Pearl of Wisdom."
This drink is
outstanding
.
Finkdaddy himself describes it as a variant of the Singapore Sling, and says it has been a big hit with friends and family. After trying it, I can easily see why.
The Pearl of Wisdom is a great example of a tiki-style drink, striking a wonderful balance between tart and sweet. The cherry and lime match up well, and combine to form the main flavors. There is a great citrus taste throughout, and the whole thing is unbelieveably refreshing.
The secret weapon here is the sake. It pulls the other ingredients together and puts a soft, dry tone on everything. As for brands, Finkdaddy recommends
Momokawa Diamond
, but not being able to find it locally, I substituted their
Ruby
and it was fantastic nonetheless.
Also, I'm generally not a fan of bottled mixes, but the sweet and sour works very well here. Just make sure you get some fresh stuff- this isn't the time to use up the remains of that derelict bottle that's been in the back of the fridge since last Summer.
Overall, if I had to choose between this and the Singapore Sling, I'm certain I'd take this one almost every time. The Pearl of Wisdom is drier and crisper, whereas the Sling is sweeter and fruitier. They're both great drinks, but I found the subtleties of the Pearl of Wisdom more appealing.
If you've been looking for incentive to buy a bottle of sake or cherry brandy, this is it. I can't recommend it highly enough.
And if you have a few minutes, check out Finkdaddy's excellent work at his site,
The Leeward Lounge.
You can also see additional pieces in
this thread
over at the
Tiki Central
forums.